Small Business Operating System

 (SBOS) 
Helping Eradicate Entrepreneurial Poverty! 

Why we do what we do:
According to the World Trade Organization, small-and medium-sized enterprises (SMEs) represent over 90 per cent of the business population, 60-70% of employment and 55% of GDP in developed economies.  SMEs therefore do not just significantly contribute to the economy – they ARE the economy.
Statististics also show 50% to 70% fail in the first 5 and 10 years respectively - this has to change!! - We are changing this and helping Businesses Thrive!
Why Businesses Fail:
The #1 reason Small Businesses fail is spending too much time IN the Business and not enough time ON the business.  Stats will show you it comes down lack of cash, lack of sales, inability to compete, poor accounting….  often avoided activities which may come from a lack of undertsanding, time to work on them or personal beliefs/thoughts.   The Achilles heel of a Small Business is the Entrepreneur's Mindset and Skillset.

Your Business should support you - not the other way around:
We belive your business should support the lifestyle you deserve.  Unfortunately, too many entrepreneurs aren't in this position, hence Entrepreneurial Poverty.  For us Entrepreneurial Poverty looks like:
Paying your staff nore than you are making
Not consistently drawing an income because of cash flow challenges
The value of your company doesn't support the lifestyle you deserve when you decide/need to exit your business
There is never the "Right Time" to take the first step AND it is never too early.  Most Entrepreneurs wish they did this earlier!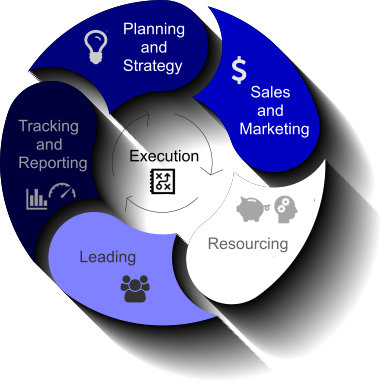 What is the Small Business Operating System?
The Small Business Operating System (SBOS) is a 6 module program that introduces foundational and critical skills while supporting the areas of psyche that impact confidence and overall business results. The proven content, tools, systems and processes are desigend to fill the critical gaps and drive results.  SBOS was specifically designed by Entrepreneurs for Entrepreneurs, owners/founders/operators of established Small and Medium sized businesses.  SBOS was built to introduce foundational and critical Skills while supporting the areas of psyche/Mindset that impact entrepreneur's ability to take the business further. 
There is no Silver Bullet - it takes work!
This System ONLY works if YOU work the program. Integrating and applying the SBOS concepts results in:
Improved company performance
Obtaining new knowledge and skills
Improved organization in professional AND personal life
Clear performance benchmarks
You driving your business vs. it driving you
Here is what some of our past Entrepreneurs say about SBOS:
Small Business Operating System (SBOS)
CAD
3,000.00
"Years later, I am still using the concepts I learned from the program"
Craig Pawlak
Owner - The Home Muskoka retirement residence
SBOS - Small Business Operating System
"This program changed how I look at and run my business - life changing!!!!"
Wanda Goodman
Founder and Creative Clay Genious - Wanda's Creative Clay
It's not about being Broken or needing to be Fixed
First of all, building a business is WORK!  As Entrepreneurs, we know what we know, we don't know what we don't know and we are hit and miss at the rest - hopefully more often a hit.  SBOS is about filling the gaps, shoring up the foundation and clearing the mindset that is in your way.  Following are common things we hear - "Business is good but...:
I haven't taken a vacation in YEARS
I can't leave the business for a day or less without things going sideways
I haven't paid myself or recovered what I have put into the business
We are stalled or hit the ceiling, similar sales as past years
We have grown and our profit hasn't
My accountant says we are profitable and I don't know where the money is
I am held hostage by my staff, clients or vendors
I am tired and my passion is going away
Maybe I should just get a job
I can't even think of retiring
Many more....
If you relate to 2 or more of the above list SBOS can help.  Now is the time to start as it is never too early and it is sometimes too late.